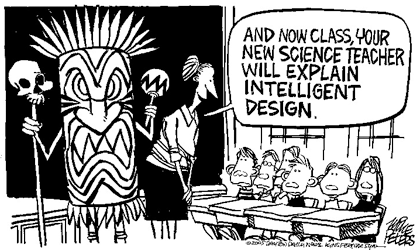 There seems to be a relationship between right-wing politics and ignorance about science.
Here,
Tom Bethell in the conservative tabloid
The American Spectator
displays a complete lack of understanding of basic evolutionary theory (or willfully obfuscates evolutionary science for political reasons). Bethell is a journalist who feels that he has the expertise to declare that HIV doesn't cause AIDS, that global warming is a lie, and that evolution is "best seen as a 19th Century philosphy--materialism--dressed up as science."
In his article, Bethell derides evolution in part because it can be used in "support of any cause whatsoever." Indeed this is true. It is also true that Christianity, which is the opposite of evolution in Mr. Bethell's estimation, has been used to justify war, slavery, genocide, rape, and any number of crimes against humanity. Bethell would be horrified--and rightly so--if I claimed that Christianity is to blame for every evil perpetrated by its adherents. His invocation of misuse of evolutionary theory is a non sequitur.
Bethell's treatise is loaded with such non sequiturs, along with misconceptions and fabrications about evolutionary theory. The most egregious:
The underlying problem is that a key Darwinian term is not defined. Darwinism supposedly explains how organisms become more "fit," or better adapted to their environment. But fitness is not and cannot be defined except in terms of existence. If an animal exists, it is "fit" (otherwise it wouldn't exist). It is not possible to specify all the useful parts of that animal in order to give an exhaustive causal account of fitness. If an organism possesses features that appear on the surface to be inconvenient-such as the peacock's tail or the top-heavy antlers of a stag-the existence of stags and peacocks proves that these animals are in fact fit. So the Darwinian theory is not falsifiable by any observation. It "explains" everything, and therefore nothing. It barely qualifies as a scientific theory for that reason.
This same tripe has been trotted out in creationist arguments before. It might be convincing if it were correct, but unfortunately for Bethell, it isn't the least bit true. Scientists don't define fitness as a quality or trait that allows an organism to be successful--such a quality is an adaptation. Fitness has a precise definition: the ability of an organism to get its genes into the next generation. Such an ability can be quantified and measured. Adaptations may contribute to fitness, but they're not the same thing. (
Wikipedia
has a pretty decent explanation of fitness.)
It's not surprising that Bethell doesn't understand the difference between adaptation and fitness; it's clear from his writing he doesn't understand the difference between science and religion. He claims that Intelligent Design is "informed" by science, and if by that he means that it uses scientific words to dress up pseudo-scientfic mumbo-jumbo, then I guess it is. So is astrology. Bethell toes the company line on Intelligent Design "theory":
Intelligent design is...aggressive and therefore potentially dangerous. It says to the Darwinians: "You don't have the evidence to support your claims. Your lab results and fossils don't support your theory. Organisms are way too complex to have arisen by chance. Take all the time you want, it won't be enough. Even though we don't know how it happened, these critters must have been designed somehow."

Bethell is right--the IDers are aggressive. Their idea is also dangerous, since it threatens the teaching of real science in public schools. ID makes provocative claims about evolution, but they're easily shown to be baseless--fossils don't support evolutionary theory? Such a thing would be said only by someone who's never looked at a fossil. Complexity as an argument against evolution is nothing more than an argument from incredulity: "I don't believe anything so complex could possibly evolve." Intelligent design is indeed a philosophy dressed up as science. Here is another part of the intelligent design movement that Bethell gets right: They "don't know how it happened." That's the difference between IDers and evolutionary biologists. We
do
know how it happened.